"If I were to remain silent, I'd be guilty of complicity"
-Albert Einstein
"Our LIVES begin to end the day we become silence about things that matter"
-Martin LutherKing
We cannot talk about a drug policy reform and organize the Recovery Community without talking about Social Justice and Health Disparities. We need to understand that minorities have been negatively affected during the last 80 years due to the ongoing polices regarding "the war on drugs." There are 50 million Spanish-speaking people without adequate recovery supportservicesin the US. Themission of LARA isthat every affected person and their family receives access to treatment and Recovery Support Services in Spanish.
Some of the strategies that LARA proposes:
Culturally and linguistic responsive Recovery Support services.
Culturally and linguistically appropriate.
Bring awareness of "cultural competence" to all major advocacy organization.
Recovery message training in Spanish.
Advocate for a public policy that demands Recovery organizations to provide Recovery Support services.
Create a database that serves as a network for all the recovery associated services in Spanish available in the US.
System of outreach.
Educate about the new recovery movement in Spanish with documentaries, videos, etc.
Training in How to build Recovery Communities: Treatment,Preventions, judicial and law enforcement, education, and employment. How to adapt this
scheme to the Hispanic culture and language.
It is a matter of urgency that we translate the following messages in Spanish:
What is Fentanyl and how deadly it is.
Recovery-oriented systems ofcare.
LGBTQ Community and Recovery Supportspecialist in Spanish.
Medicated-Assisted Treatment(MAT).
NARCAN® (Naloxone)training.
Harm Reduction.
The Language of Addiction.
Stigma
All RecoveryMeetings.
The Many Pathways to Recovery.
Family support services in Spanish
The engagement to increase cultural competence must also involve a commitment to maintaining it through periodic reassessments and adjustments.
Be part of the LARA Movement by sharing any existing resource in Spanish or a Spanish speaking person in your area.
For more information, feel free to contact me.
Sincerely Yours,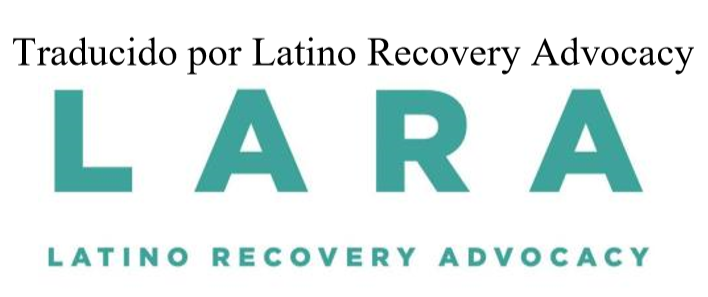 Angel Lagares
Director & Founder of LARA
National Certified Recovery Coach
Bilingual Resource Specialist NCRC-1
[email protected] – [email protected]
+1 (561) 727-7588